Community Voices

Click on a partner's logos for more information.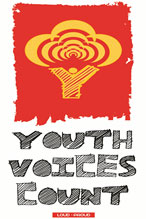 Youth Voices Count (YVC)
Youth Voices Count is an initiative led by young (aged 18-29) men who have sex with men (MSM) and transgender (TG) people that aims to support YMSM & YTG community on addressing HIV related health issues through mobilization, capacity building and advocacy in Asia and the Pacific.
Key areas of practice
Advocacy, capacity building, community mobilization
Country/Countries of engagement
Bangladesh, Cambodia, China, Fiji, Hong Kong SAR, India, Indonesia , Lao People Democratic Republic, Malaysia, Mongolia, Myanmar, Nepal, Pakistan, Papua New Guinea, Philippines, Singapore, Sri Lanka, Taiwan (China), Thailand, Viet Nam
Mailing address
Youth Voices Count, unit 201, 51/2 Ruam Rudee Building 3, Phloen Chit Road, Lumpini, Panthuwan, Bangkok 10330, Thailand
Email address secretary.cwg.yvc@gmail.com
Social Media
www.facebook.com/YouthVoicesCount
Website Link www.youthvoicescount.org
* Disclaimer: Please note that unlike the content on other pages, the Data Hub Team and collaborating implementing partner organizations (i.e. UNAIDS, UNICEF and ADB) specifically do not make any guarantees or representations as to the validity, accuracy or completeness of any featured materials or resources provided by partners on this particular page or to the linked sites. The contributing named and responsible partner organizations are solely responsible for the content on the Partners Pages. Under no circumstances shall the Data Hub team or collaborating implementing partners be liable for any loss, damage, liability or expense incurred or suffered that is claimed to have resulted from the use of this website, including, without limitation, any fault, error, omission, interruption or delay with respect thereto.